2018 Natchez River Runs Pink
Saturday, October 6, 2018
On the Bluff, Natchez MS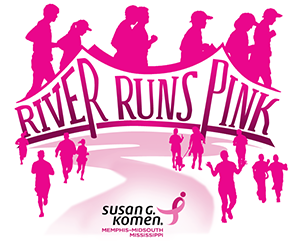 The Memphis-MidSouth Mississippi Affiliate of Susan G. Komen will host its 3rd Annual Natchez River Runs Pink 5K, a fundraising walk promoting breast health awareness, celebrating survivors, encouraging breast cancer patients and honoring those we have lost. The event will be held October 6 On the Bluff, Natchez.
With breast cancer affecting one in eight women and its occurrence in men continuing to rise, we feel that it is vital to involve all of our communities in the fight against breast cancer. Join the fight, form a team, join a team and register for a fun-filled family event to run breast cancer out of town.
Date: Saturday, October 6, 2018
Time: 8:00 AM - 11:00 AM
Address: On the Bluff, Natchez MS
Registration Fee: $10.00 does not include t-shirt
T-shirts can be purchased for an additional fee of $10
Register online using the buttons above to start a team, join a team, or register as an individual.
Register in-person prior to and the day of the event. Pre-registration forms can be mailed to River Runs Pink 103 Fairmont Plaza Pearl, MS 39208. Click here for a paper registration
View schedule, fundraising ideas, FAQs, and more on the Event Information page.
Event Sponsorship Opportunites Available!
If you are interested in becoming a sponsor of the River Runs Pink 5K event, please contact us at 601-932-3999 or email Catherine Young cyoung@komenmemphisms.org or Faith Stretch at faith.stretch59@gmail.com or 601-597-8211. View Sponsorship Brochure. Download sponsorship contract.