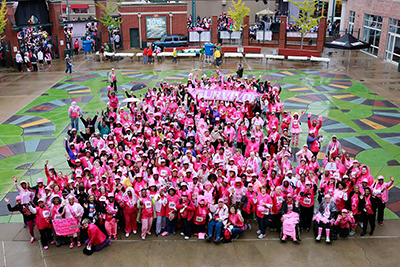 A Tribute to Breast Cancer Survivors
You'll find an incredible community of survivors and co-survivors at the Susan G. Komen Memphis-MidSouth Race for the Cure®. Survivors and co-survivors gather to celebrate and support one another in an atmosphere of genuine camaraderie. It is their inspiring spirit that energizes us to continue the fight to end breast cancer forever. Together we save lives, right here at home.
All breast cancer survivors (who choose to indicate as such at the time of registration) will receive a special pink Race bib as well as a pink Race T-shirt and an invitation to the Survivor Brunch at AutoZone Park after the race and celebrating with the Bouffants.
For more information on our Survivor program, click here.
Survivor Luncheon
Every year, Susan G. Komen Memphis-MidSouth honors survivors at their annual Survivor Luncheon. This year we want to take it a step further and honor you too! You, the co-survivor, mean so much and play a key role in the journey of our beloved survivors. You did not let them walk through breast cancer alone and we know you do not want them to walk to the Luncheon alone either.
Thank you so much to everyone who attended the Survivor Luncheon on August 27th. You can check out pictures from the event by clicking the link below to our Flickr or Facebook account!
https://www.flickr.com/photos/memphis-midsouthraceforthecure/
https://www.facebook.com/komenmemphismidsouth/photos?ref=page_internal